Create . Share . Connect

Digital Business Card

A better way to present yourself & get more business connects.

Trusted by 20K+

real estate agents

fitness coach

doctors

fashion designers

wellness leaders

advocates

retailers

logistics

ecommerce sellers

writers

The #1 digital business card platform.
Most trusted and reviewed digital business card platform.
4.7 ratings on Trustpilot
3,700+
Contact downloads per day
1,900+
Leads generated per day
How wCard.io works?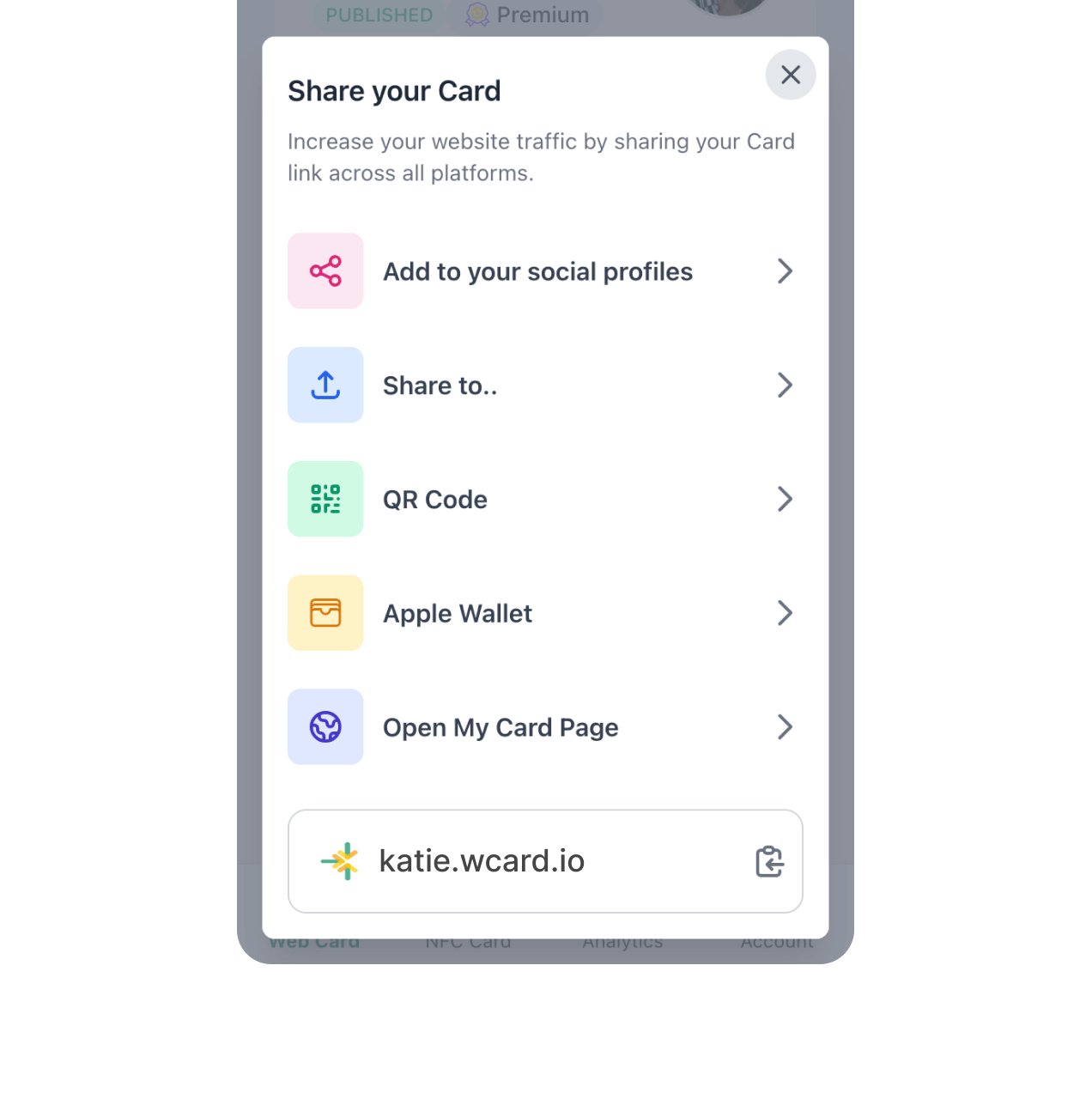 01
Create Digital Business Card Online
Make digital business card and make it more informative by adding the following items:
Main Action & WhatsApp Button
Payment & Social Profile Links
Photo, Banners, Portfolio, Videos, Podcast, etc
PDF Attachments & more...
02
Share
Once you have completed creating your card, you can easily share it using any of these options:
Add your unique wCard.io URL to all the platforms and places you find your audience.
Use your QR code to drive your offline traffic online
Share your card effortlessly with just a tap on your phone using the NFC card feature.
Share on WhatsApp, Email, SMS, etc
03
Connect
There are several ways in which your card viewers can connect with you:
Downloading your contact information as a VCF file.
Sending your contact information to their email.
Exchanging contact information directly with you.
You can find their contact details in your contact book.
50+

links that can be added to your digital business card.
Social Profile Links
Direct Contact Links
Payment Links
Location & Attachment Links
Create Your Own Card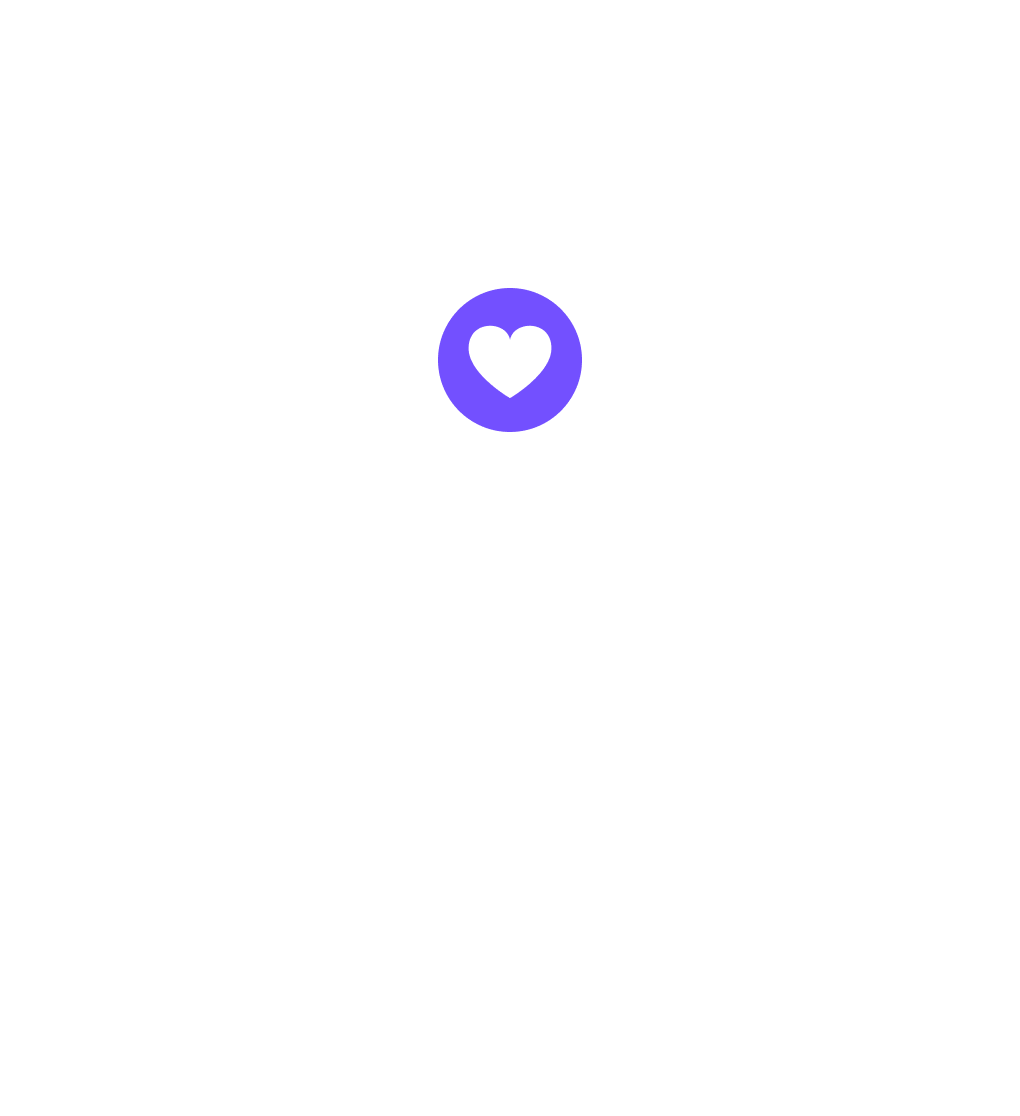 Endless Features
Offering Custom Digital Business card For You
We have developed a set of impressive features aimed at creating wCard.io, the best digital business card.
Custom Domain
Connect custom domains with your digital business card.
Photos
Showcase your creativity with multiple photos on your digital business card.
Videos
Enhance your digital business card by adding or embedding a YouTube or Vimeo video.
Audios
Make your digital business card stand out by adding or embedding Soundcloud or Spotify audio.
Education & Experience
Craft a comprehensive digital resume with education and work experience.
Attachments
Easily share PDF documents and business brochures on your card.
Embed Twitter
With this feature, you have the ability to directly embed either your latest Tweets or a single Tweet onto your Digital Business Card.
wCard.io is used by people across all industries
Clients who have become our friends for many years
"It's a great thing when a company surpasses your expectations. I had many questions on how their system worked and got a very clear understanding by showing examples. There was great effort made and I'm very happy with the level of service that was provided. I look forward to a long and profitable relationship."
"Wcard offers an exceptional concept for a digital card, allowing you to edit and customize it within minutes. Every feature has caught my eyes and its like the best investment made so far. The UI, functionality, everything was so smooth. I love it."
"A simple and intuitive platform that allowed me to create and work with my card in multiple use cases. One of the most easiest and most user friendly websites out there for this job!"
"Wcard.io is an exceptional website that… Wcard.io is an exceptional website that offers virtual business cards for individuals and businesses. It's easy to use and allows users to create and customize their own digital business cards quickly and easily. With a wide range of customizable templates to choose from, users can create stunning cards that reflect their brand and personality."
"Wcard offers an exceptional concept for… Wcard offers an exceptional concept for a digital card, allowing you to edit and customize it within minutes. With Wcard, you can conveniently store all your pertinent details, including your name, address, email, social media links, PDFs, documents, photo galleries, and more. In short, Wcard provides an excellent value for your money, offering a comprehensive solution to manage your digital identity."
"It's an amazing Card. I'm just make a try for business card. But now, I'm using this card really as dynamic website. I'm not yet finished. Still this moment, it's worth for me. I'm recommended this product for small business as well as huge clients. Categorised your products with different sections. Anyway I'll complete it and make a final review. Thanks & supports for wcard.io team members."
"Excellent work by the team. Whenever I requested for making any edit they have always completed in few hours. I recommend everyone to make your digital card by Wcard.io. All the best to the entire team. With Best Wishes"
"Excellent work by the team. Whenever I requested for making any edit they have always completed in few hours. I recommend everyone to make your digital card by Wcard.io. All the best to the entire team. With Best Wishes"
"the whole experince was really good. Arindam was a great help and we were up and running in a couple of hours .. no hassles at all. The quality of the NFC card is also good"
"Wcard is known for being one of the best digital business card services on the market today. They give you unforgettable style and professionalism when networking, online. Small businesses and individuals are using Wcard digital business card services. Highly recommended."
Pricing Plans
Choose the plan that suits your business needs.
1 User
For individuals with limited customizations.
Signup for Free
Your Free Digital Visiting Card. No Credit Card Required!
Digital Business Card for yourself

Basic customizations

wCard Branding

Include a profile image

Include a cover image

Add Education and Experience Tabs

Add Contact Form

5 Leads

Share your card with QR Code, mail, text, whatsapp, etc

Unlimited Social Links

Limited Mobile Numbers and Emails

Click to Action Button

Direct WhatsApp Button

Choose Theme Color from our palette

3 Uploads in Portfolio

Basic Analytics
1 User
For individuals with full customizations & advanced features.
Get Started
Get Started
Everything included in Free, plus:
Personalized Link (yourname.wcard.io)

Custom Domain with SSL (yourdomain.com)

Hide wCard Branding

Unlimited Pages

Multiple Themes

Unlimited Social Profile & Website Links

Unlimited Leads

Payment Links (Paypal, UPI, etc)

AI Magic Text

Premium Fonts

Dark/Light Theme

Embed Musics & Videos (Spotify, Soundcloud, Youtube etc)

Upload Unlimited Photos

Connect YouTube Channel

Facebook Chat Integration

Calendly Integration

Google Analytics Integration

Add Custom Javascript Code

Change Copyright Text

SEO Optimizations

All Future Updates
Enterprise
$2 /user/month
$15 /user/year
5+ Users
For businesses and teams with custom branding.
Contact Sales
Everything included in Premium, plus:
wCard.io Premium for all team members

Custom Profile & Dashboard Branding

NFC Products Management

Centralized Leads Storage

Teams and Sub-Teams

Advanced Team Analytics

Pre-defined templates

Export Data

Business-level support
Want to become our reseller? Contact Us
Streamline your connections with our cutting-edge electronic business card – making networking digital and effortless
Resources for you
Any questions? Check out the FAQ
With a free account, you can create a single digital business card. If you require more than one, upgrading to an Enterprise plan is necessary. For additional details, feel free to explore our Pricing page.
A digital business card (also known as virtual business cards, electronic business cards, smart business cards, and digital visiting cards) is an online means of sharing contact information.
You can create a digital business card on an iPhone, iPad, Android, or computer, and they're often more affordable than their paper counterparts. Like typical business cards, electronic business cards can be customized, designed, and shared with anyone.
There are no space constraints with digital cards—you can add as much or as little information to your card as you'd like. In addition to your standard contact information (like your name, company, email, and phone number), you can enrich your card with a photo or video, a logo, social media profiles, badges, PDFs, and more.
No. There is absolutely no need to put yourself through programming courses to use wCard. And you certainly won't need to hire a web developer either.
wCard uses a drag-and-drop editor and requires no prior skills or knowledge to use. We've made sure that even a complete beginner will be comfortable using all of wCard's features.
All of the extensions and tools that are offered on our business card-building platform are designed to be as simple and quick to use as possible.
Unlike other card builders, you won't need any technical knowledge or technical skills to create a new card with wCard. In fact, you can get online with just a few clicks.
Our drag and drop interface has all the features you need as a small business owner or professional to get yourself online.
Yes, we encourage you to do so. Although you can publish your business card under a subdomain that we will provide each card for free, having a website with a bespoke domain adds layers of trust and identity to your brand.
You can connect your own unique domain with wCard.
Connecting a domain to your business card is easy. Follow the on-screen instructions on wCard's dashboard and visitors will be able to access your site via your domain in just a few hours.
You might have heard that SEO is extremely important when it comes to ranking your website high up on search engine results. And it's true.
Every card created with wCard will be search engine optimized (SEO) by default. Yet, if you want more control over your card, e.g. changing meta titles and descriptions we allows you to do that too.
Plus, our page speeds are lightning-fast, ensuring that your website or store always reaches peak performance and doesn't scare away potential clients.
wCard is designed to increase your online presence on search engines with a combination of SEO tools and templates designed for search engine optimization right out of the box.
Each and every card that you create using the wCard will be mobile responsive by default, but more than that, it will function on any device, not just on a mobile device.
We know it's essential to all small business owners to be where their visitors are – and they're increasingly on mobile devices – so we've focused on making sure our digital cards are mobile optimized to give the best experience to your card visitors.
Although most of the mobile responsiveness will be taken care of by our platform automatically, you can also see the preview of your card on mobile screen while editing to make sure that your card looks the way you want it to.
It's one of the design features that will help you build a beautiful card, generate leads, and drive traffic.
Creating a digital business card on wCard.io is simple. Sign up here for an account, customize the design, add your contact information, social media links, and other relevant details. Once done, you can save and share your digital business card instantly.
No! wCard.io is free to use. We do offer advanced features through wCard.io Premium, you can check our Prices Here, but it is a completely optional upgrade.
No, you do not need a mobile app to use wCard.io. The platform is accessible through web browsers on both desktop and mobile devices. You can create, customize, and update your digital business card directly from your web browser without the need to download or install any mobile app. This provides you with the convenience of managing your digital business card from any device with internet access.
YES! We frequently share updates on our social media channels. Follow us to stay informed about the latest product developments.