Our Digital Business Card Features
We have developed a set of impressive features aimed at creating the most informative digital business card.
Your wCard Page
A simple, yet professional place to showcase who you are and what you do.
About
About section can be used to highlight ones work and tell about their skills.
Profile/Cover Photo
Bring life to your profile by adding a profile and cover photo.
Payment Links
Add multiple payment options like Paypal, Cash App, Paytm, Zelle, Google Pay, Phone Pe, Venmo, Indian UPI, Razorpay to your wCard Page.
Multiple Themes
wCard users now have access to new themes that take current design trends and ensure they convert into clicks.
Education
You can add your Education History to your digital business card efficiently. Show off your academic achievements and qualifications to impress clients and employers. It's a great way to highlight your education and stand out digitally. Create a professional digital business card that sets you apart!
Work Experience
Adding Work Experience to your digital business card is simple and effective. Showcase your professional journey, job roles, and accomplishments to leave a lasting impression on potential clients and employers. With this feature, you can highlight your expertise and skills, making it easier for others to connect and collaborate with you. Create a powerful digital presence by incorporating your work experience seamlessly into your digital business card today!
Contact Form
You can supercharge your digital business card by adding a Contact Form to capture valuable business leads! It's effortless to set up – simply select the fields you want, like Name, Email, Phone Number, and Message. With this convenient feature, potential clients can easily reach out to you, allowing you to build meaningful connections and seize exciting opportunities. Make networking a breeze and grow your business with a fully interactive digital business card!
Portfolio
Flaunt your work with a specified tab. You can upload unlimited picture or photos to demonstrate your skills.
Contact Book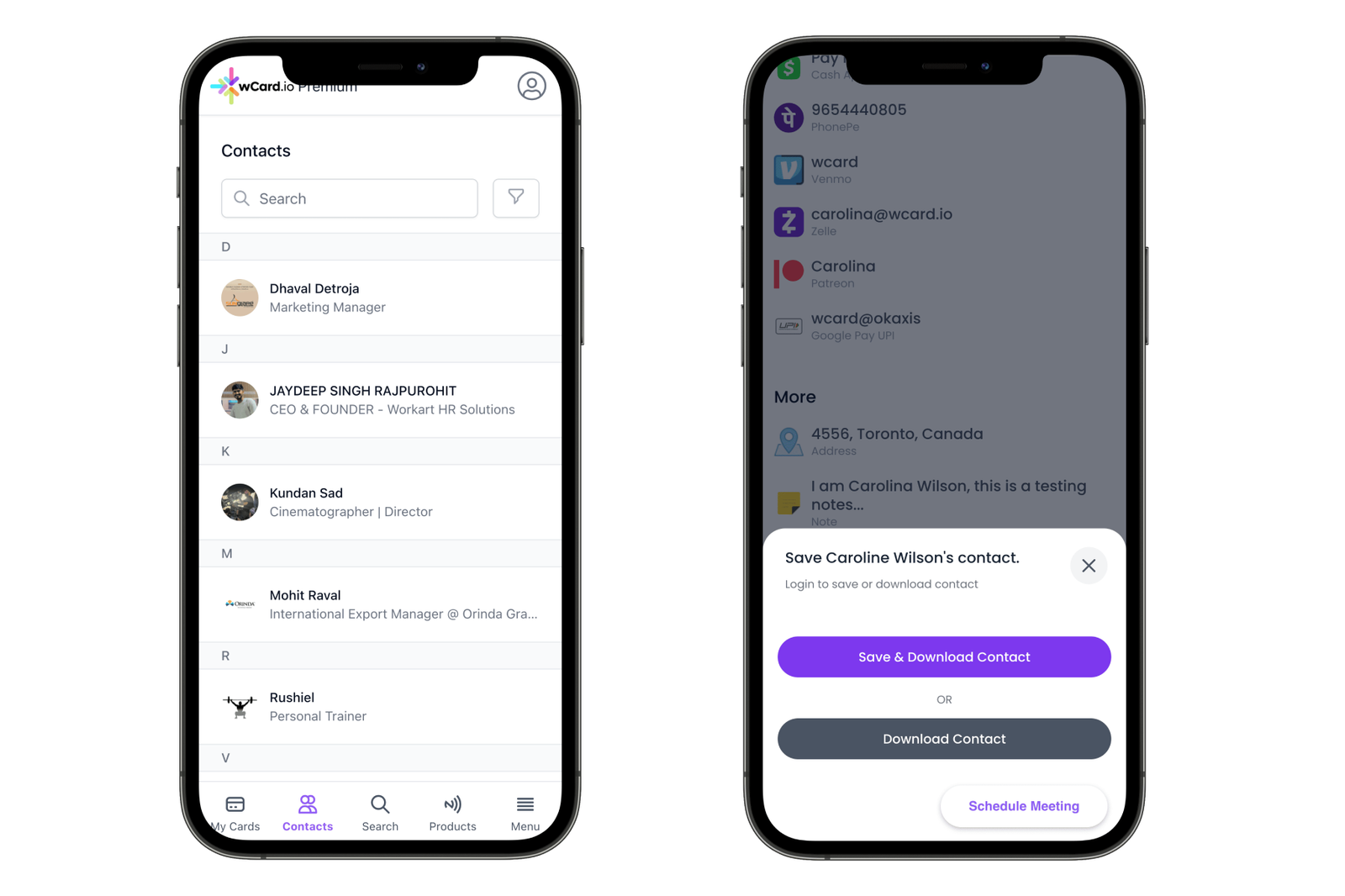 Get Contact book to find all the connected users. You can find any user with contact book easily.
Sensitive Material
Visitors to your card will see a Sensitive Content message before being able to view your profile.
wCard Lock
The wCard Lock feature adds an extra layer of security to your digital business card by requiring an Unlock Code for access. This feature helps to prevent unauthorized viewing of your card and ensures that only intended recipients can view your contact information.
Link the custom domain you own with wCard in simple steps.
Create Multiple Digital Business Card for yourself. Demonstrate your personal as well as professional work separately
We provide you an option to Hide wCard Logo from footer
Add to Home Screen & Offline QR Code
Premium
Add to Home screen is a feature that allows your users to "install" a web app, ie. add a shortcut to their Mobile Home screen so they can access it with a single tap. When you are offline (no internet) this app will show the QR code of your card. Works on Android & iPhone.
Select in between White or Black Theme. Also, your viewers can switch Dark/Light theme.
Include PDF or any other document as attachment
Multiple Phone, Email & Links
Premium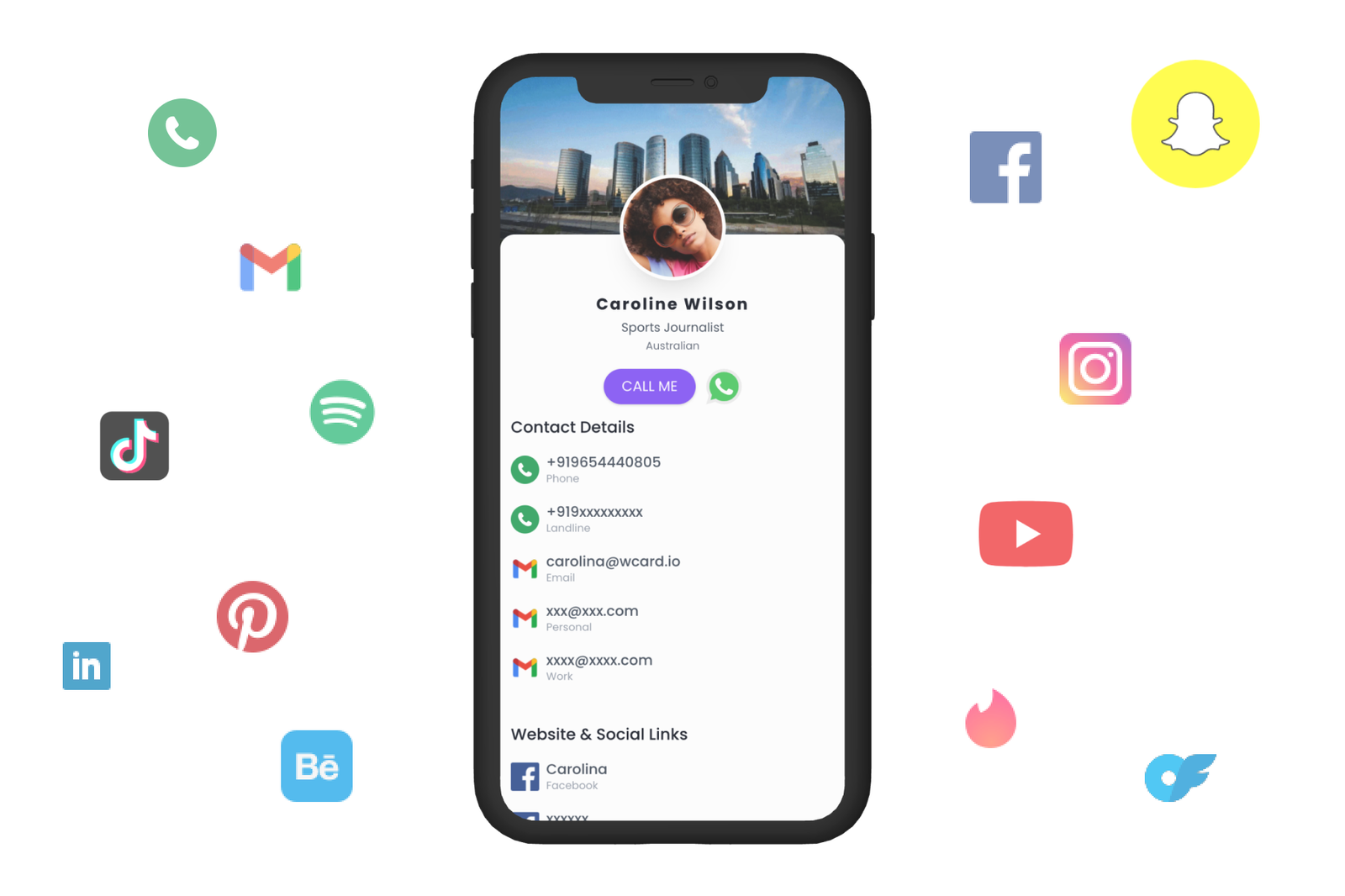 You can add multiple phones, emails, website links, social links, addresses, and more.
It's very easy to give new look to your wCard. Choose a custom color from the unlimited color palette.
Introduction Video
Premium
You can embed a Youtube or Vimeo Video to showcase your products or services.
Show your latest videos directly from your YouTube Channel in a separate tab.
With this feature, you have the ability to directly embed either your latest Tweets or a single Tweet onto your Digital Business Card.
Integrate Facebook Chat in easy steps and don't lose on important leads.
Introducing new ways of booking appointments, Provide your visitor to book appointments hassle-free. Integrating Calendly will never let you forget your bookings.
Download & Save Contact
Premium
Download and Save contact directly to the contacts of your phone.
Get information on Leads direct to your mailbox. This feature will enable your wCard to collect more leads and get you the information directly on your email.
Custom Javascript
Premium
Add Google Analytics, GTM, Facebook Meta Pixel, and other Custom Javascript codes on your card. Copy and paste your JavaScript into the textbox. Be sure to wrap JavaScript snippets with "script" tags.


Get statistics about traffic to your page. Analytics will help you know the amount of users coming to your web card daily.
Want some inspiring words to help you start being creative? Magic Text, powered by OpenAI, is your own AI tool to help you quickly write a first draft. Just give it a prompt, and watch as it creates text for your digital business card, like a copy, profile descriptions, product details, and more, all in seconds. It's easy to use and will get your ideas flowing quickly!
Introducing AI Magic Text
With Magic Text, our content generation tool powered by OpenAI, you can go from an idea to your first draft in seconds. Just use a simple prompt to help you write anything you need, like social media captions, profile bios, or even brainstorming ideas for poems or letters. Get access to Magic Text with wCard.io Premium. It's easy and quick!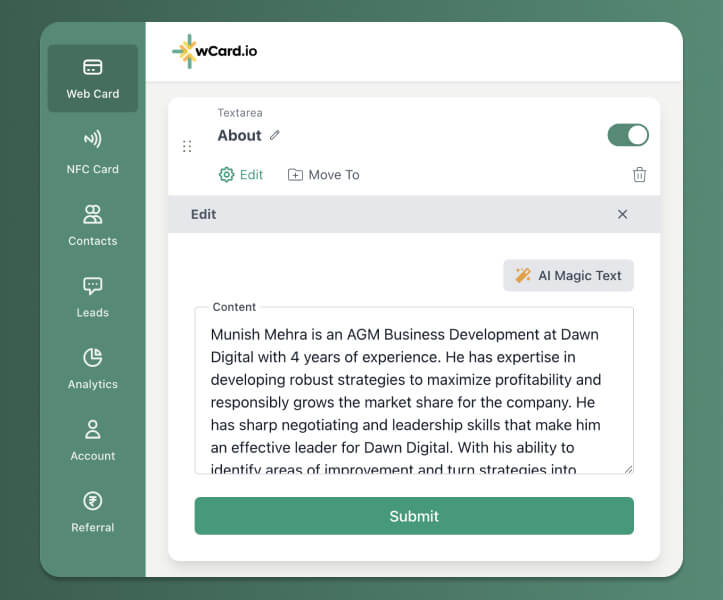 Save time with quick and effortless content generation.
Profile Description: Easily generate an attention-grabbing profile description or bio caption in seconds. Stand out from the crowd with personalized and engaging content. Try it now and leave a lasting impression!

Product Description: Easily create engaging product descriptions in seconds. Just give a prompt, and see the magic happen! Attract customers and elevate your brand effortlessly. Try it now!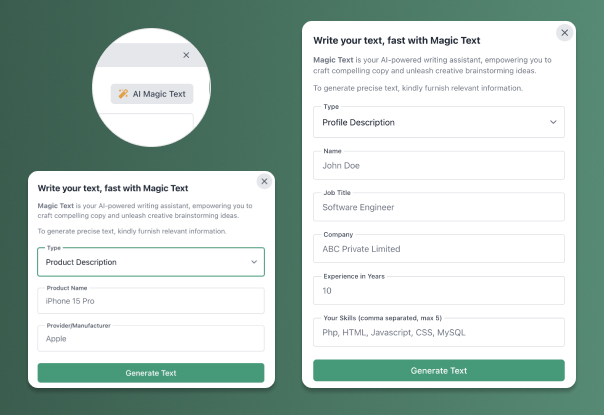 How to use AI Magic Text
Go to Dashboard

Click on Edit Card

Go to the Content tab

Select the Page where you want to add text

Click on Add Section Button

Select Textarea Section

Click on AI Magic Text

Select type "Profile Description" or "Product Description"

Fill out the Form according to the type selected.

Click on Generate Text button